Indian gooseberries are round to oval berries characterized by their green color and excessively acidic flavor. The fruit, also known as amla, is native to India and Nepal and is commonly found in tropical Southeast Asia. Ancient Hindus considered the Indian gooseberry tree sacred and once referred to it as "Earth Mother." The etymology of the word amla came from the Sanskrit word amlaki that means "the sustainer." According to health and wellness website Style Craze, Indian gooseberries have long been used in Ayurvedic medicine.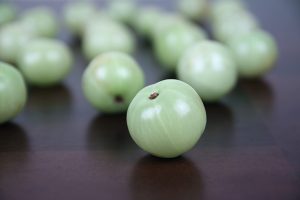 List of known nutrients
Indian gooseberries are packed with essential vitamins and minerals that promote the body's overall health and fortify its defenses against a host of illnesses. According to an entry posted on Nutrition and You website, Indian gooseberries contain:
Calcium
Copper
Folate
Iron
Magnesium
Manganese
Niacin
Pantothenic Acid
Phosphorus
Potassium
Pyridoxine
Riboflavin
Sodium
Thiamin
Vitamin A
Vitamin C
Zinc
Medicinal uses for Indian gooseberries
Indian gooseberries or amlas are notably high in vitamin C that is easily absorbed by the body. The high vitamin C content in Indian gooseberries help improve the immune system and fend off a plethora of respiratory infections and diseases such as cough, colds, and sore throat. Likewise, the superfood is known to alleviate more serious conditions such as tuberculosis, asthma, and chest blockage. Regular amla consumption is also touted to prevent the onset of scurvy.
Indian gooseberries are also touted for their beneficial effects on the cardiovascular system. The fruits are shown to contain powerful natural compounds that promote blood flow in the heart. Likewise, the superfoods are high in potent antioxidants such as amino acids and pectin that lower bad cholesterol, triglyceride, and C reactive protein levels in the body. Aside from this, regular amla consumption is touted to strengthen cardiac muscles and regulate blood pressure levels. Additionally, Indian gooseberries are known to prevent fat and plaque accumulation, which in turn reduces the odds of developing atherosclerosis.
In addition, Indian gooseberries are known to contain high levels of antioxidants that inhibit the growth and proliferation of carcinogenic cells. The rich antioxidant supply in Indian gooseberries mitigate cellular damage and tumor growth. Thus, they help protect the body against stomach, skin, and liver cancer. On the other hand, the fruit is found to stimulate insulin secretion that makes it ideal for patients with diabetes. Indian gooseberries help regulate blood sugar levels and lower albumin rates in patients.
Moreover, the superfood is an excellent source of fiber that facilitates the digestive process and treat various conditions. Indian gooseberries are known to relieve bloating, acidity, gastritis syndrome, and hypochlorhydria. The fruit also contains laxative properties that help alleviate diarrhea, constipation, and irritable bowel syndrome. Indian gooseberries are also found to prevent the onset of gallbladder stones and jaundice. Furthermore, Indian gooseberries are an excellent source of calcium that fortifies the bones. Aside from this, the fruit also relieves insomnia and sleeplessness.
Body systems supported by Indian gooseberries
Indian gooseberries are shown to promote the body's immunity against diseases. Likewise, the superfoods are found to promote the overall digestive health and cardiovascular profile. Amlas are also helpful in maintaining healthy respiratory, skeletal, and nervous systems.
Ways to use Indian gooseberries
Due to its sour flavor, Indian gooseberries cannot be enjoyed as a regular table fruit. However, the superfood can be processed into pickles and chutneys, preserves and juices. An article posted on Food.NDTV.com has listed a number of interesting amla recipes.
Where to learn more
Summary
Indian gooseberries prevent respiratory infections, cancer, and cardiovascular diseases.
Indian gooseberries regulate diabetes and stave off digestive issues and insomnia.
Indian gooseberries benefit the immune, cardiovascular, and respiratory systems.
Indian gooseberries support the digestive, skeletal, and nervous systems.
Sources include:
We will respect your inbox and privacy